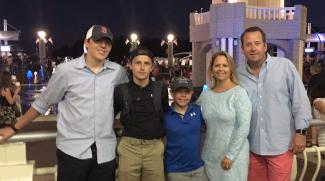 Advisor Story: Why I Quit My Corporate Gig
Chris Swenson, CFP®, became an independent advisor in 2013 after almost 20 years in the corporate financial world. He never thought he'd leave his firm, but this is the story of why he felt compelled to move into private practice.
It all started with the CERTIFIED FINANCIAL PLANNER™ designation. As Chris was studying and interacting with advisors from other firms before earning his CFP®, he realized that there were investment products that weren't available to him at his previous firm. As he dug a little deeper, he discovered these were investments that, given the right circumstances, would be beneficial for his clients.
"It was mind-blowing, at the time," Chris says. "I realized there was a good chance that I wasn't doing the right thing for my clients. I kept asking myself, 'why doesn't my firm offer these.'"
He did more research and found that most products offered were made available because they were easy for entry-level advisors to use, but Chris was an experienced advisor who needed products and solutions for mid- to high-net-worth clients. He was frustrated because he felt that the firm was only considering what would be most profitable, not necessarily what would be best for clients.
Chris' frustration motivated him to reach out to other advisors he knew who left their corporate firm to be an independent advisor. He had just begun conversations with them and researching his options when his firm did something that reinforced Chris' decision to make a move: They mailed out letters to his clients about moving into new proprietary funds without consulting him first, only telling him after the letters were sent.
"Before I had a chance to talk to some of my clients, they had already signed the papers and sent them back – without really understanding what they were agreeing to," Chris says. "I felt like they were taking the client relationship out of the advisor's hands."
After that, Chris got serious about planning his move to independence. He looked at several firms but ultimately chose Cornerstone Wealth Management because he trusted the team to do what they said they would. The assistance with transitioning was a big factor in the decision as well, Chris says.
"The transition team provided an enormous amount of support to make sure every little detail was buttoned up. I was so busy with clients, I couldn't have done it all. I don't think I would have decided to make the move without knowing I'd have that support. I couldn't have done it without Cornerstone."
Chris says he felt prepared for life as an independent advisor, thanks to the collaborative environment at Cornerstone and the many conversations he'd had with other advisors there who had made the move before him. One thing he didn't anticipate was how rewarding it would be to plan his own diversification trips. He says he enjoys choosing his own destination and activities that he and his family will enjoy most – and he's able to do that thanks to the extra payout he's earning as an independent advisor.
"The increase in annual compensation was better than I expected," Chris says. "Having the ability to do things like send my kids to private school, have a lake house – things I didn't really feel like I could afford before – has definitely changed our ability to enjoy our family time."
The next chapter of Chris' story involves a succession plan – one where he's taking on the book of a retiring advisor. Cornerstone brought the opportunity to Chris, and he partnered with another advisor to purchase the book, with financial assistance from Cornerstone. Chris is currently working through the transition process and looks forward to developing long-lasting relationships with his new clients.