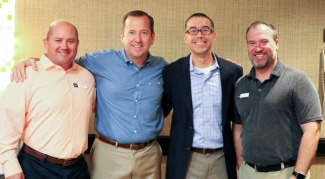 Top 10 Reasons Our Advisors Chose Independence
Many financial advisors are deciding to be independent these days – you might even know a colleague or friend who has already moved to private practice. Independence offers plenty of advantages; some are obvious (like a higher payout), but others might surprise you (check out reason No. 3).
Cornerstone Wealth Management has compiled the top 10 benefits our advisors say they enjoy about being independent. If want to hear more about what life is like as an independent advisor, contact one of our recruiting team members for a confidential conversation.
1. No Limit on Your Success
Many advisors at Cornerstone Wealth Management (Cornerstone) felt limited at their previous firms, whether that was access to investment products or the ability to market themselves the way they wanted. But by far the most common theme among our advisors is the realization that their success wasn't in their own hands. The firm they worked for owned the client relationships and, as the advisor, they were limited by their contract to simply servicing those relationships.
As independent advisors, Cornerstone advisors enjoy a one-page advisor agreement that is very clear: Your clients are yours alone – you own those relationships and we don't restrict how you serve your clients. Our advisors feel more confident about the future because they control what that looks like – their success is in their own hands.
As an independent advisor with Cornerstone, you'll own your book of business and build it up the way you want, with support from an established registered investment advisor and a large independent broker/dealer, LPL Financial. Both Cornerstone and LPL encourage advisors to use social media and other marketing practices, as well as provide marketing support and resources that help boost efforts to grow your business.
2. Freedom to Pick Your Product
Thanks to their affiliation with LPL Financial, Cornerstone advisors have a wide range of investment products to choose from. LPL has no proprietary products, so advisors are free to use the investments they feel are a good fit for their clients' goals. Because many of our advisors came from firms where they felt limited by their product lineup (or worse, were encouraged to offer proprietary products or upsell additional products like mortgages), they enjoy the freedom to do what's right for their clients with no strings attached.
In fact, many Cornerstone advisors feel like they're using their education, knowledge and certifications to the fullest for the first time as independent advisors. They get to build portfolios the way they want with their clients' goals and risk tolerance as the driving force, not their firm's pressure to sell.
Cornerstone and LPL offer several options for investment management – whether you want to do it all yourself, use a centrally managed LPL platform, or Cornerstone's Model Wealth Program with more than 50 professionally managed portfolios. Because our advisors are independent, they choose the option – or combination – that best fits their business.
3. Work-Life Balance
We know first-hand the challenge advisors face when it comes to finding a balance between what's needed at work and at home. Our advisors have been pleasantly surprised by the ability to strike a steady balance once they move into private practice. To be sure, the first few months of transition are time-consuming, but Cornerstone advisors have found that once things settle down, they have the chance to structure their days based on what works best for them.
As an independent advisor, you're the boss – you have autonomy in your work life, which gives you more control over your personal life as well. You have flexibility in your schedule – come in early or stay later, if that works better for you and your family. Find efficiencies in your business day to free up more time to spend at home, at play or out traveling.
Thanks to a higher earning potential, many of our advisors have discovered they have the opportunity to travel more often or take longer vacations than previously possible. In fact, several of our advisors have purchased second homes where they can get away more often to spend time with family and friends. While being a business owner comes with some additional responsibilities, being independent means you have the freedom to choose how and when to spend your time.
4. More Succession Opportunities
Depending on their age and stage of their career, Cornerstone advisors have different thoughts on succession opportunities. For all our advisors, they know they can count on Cornerstone to help them through the process, thanks to the firm's experience in this arena.
For advisors who are still building their book of business, Cornerstone has helped them find opportunities to purchase books from advisors looking to retire – both within our community and outside our group. Our advisors appreciate the insights on deal structure, transition process and even financial support that Cornerstone can provide in these instances.
As an independent advisor, your book of business becomes an asset that you can sell as part of your retirement income, and you can hand-pick your successor – whether that's a family member or someone else. For advisors ready to move toward retirement, being part of a community of trusted independent advisors like Cornerstone makes it easier to find the right person to take over their client relationships as they transition to retirement.
5. Financial Security
It's no secret that private practice pays more than a corporate gig. While financial gain is rarely the main motivation for Cornerstone advisors to make the move to independence, it does play a part in the decision. Afterall, they didn't want to make the move and not come out ahead, considering the additional financial demands of running your own business.
The good news is that it does pay to make the move. Cornerstone advisors enjoy a higher payout – up to 99 percent, depending on their production. Many say that they feel good about the ability to do what's right not only for their clients but also for their family as an independent advisor. With a higher earning potential, many independent advisors have the chance to discover financial independence as well. Because your book of business becomes a retirement asset you can sell when you're ready, you're
making a difference in your family's financial future.
If you're interested in getting a personalized payout comparison to see what your compensation would look like as an independent advisor, contact our recruiting team for a confidential discussion.
6. Creating Your Own Culture
As an independent advisor, you have the freedom to run your business as you like. You won't have a firm dictating specific goals or quotas, so it's up to you to develop your own. Many Cornerstone advisors design a business plan each year to identify their goals and the practices they'll implement in order to achieve those. They create a culture of success that is based on their own vision, rather than that of a corporation.
Your culture also influences your clients' experience, so it's also important to take into consideration the type of environment they'll be most comfortable in. Some of our advisors have a formal office setting, while others have developed one that is more casual and laidback. It's likely that you have thoughts about what you like and don't like about your current firm's environment and culture – and those of other companies you've worked for in the past. You can draw on that experience to guide you as you develop your own business. Implement the values and experiences that have resonated with and motivated you most.
7. Access to Amazing Technology
Cornerstone advisors utilize LPL's account management system to help streamline the process of opening, transferring and managing client accounts. But when it comes to client relationship management, financial planning and any other technical systems, our advisors are free to choose those that best fit their business and client needs. The options are numerous, and many of our advisors have been thrilled to discover the exceptional quality and enhanced functionality they get with third-party options versus their previous firm's proprietary or standard technology.
As independent advisors who are part of a larger community, Cornerstone advisors benefit from the shared experiences of each other to get insights on business tools like technology. New advisors can tap into the collective wisdom of our group to find out the pros and cons of each option before choosing the one to use in their own business.
8. Benefits of Business Ownership
Owning your business comes with more responsibility, no doubt, but our advisors find that the benefits are worth the extra effort. One of the most notable is the tax benefits of business ownership, and we always recommend advisors who are considering moving into private practice consult their tax professionals to learn exactly how the move makes a difference in your tax status.
Being a business owner also means you can customize your office procedures and processes to be most effective for you and your staff. Sure, this can refer to processing forms and emails, but think big picture – what will the experience be like for your clients? How do you plan to communicate regularly, complete reviews, ask for referrals, thank them for their business. Working in private practice means you can truly put your client at the center of all you do – including making their experience as easy, efficient and engaging as possible.
9. Cooperative Compliance Team
One aspect of being independent that sometimes prevents advisors from making the move is the responsibility of compliance falling on their shoulders. This is one of the main benefits of choosing an established registered investment advisory firm like Cornerstone Wealth Management. We have a compliance team that takes on that responsibility instead of the independent advisor adding it to his or her new duties.
Cornerstone's compliance team is composed of advisors who understand the work you do and the decisions you make. They take a collaborative – not confrontational – approach to working with our community to ensure both the advisors' and clients' needs are met while staying compliant.
10. Building Your Own Team
Moving into private practice is your chance to build the team you've always wanted. Some advisors choose to continue working with people they know and trust. Others see the transition as an opportunity to find new partners to help develop their business. You can hire your own assistant and, as your business grows, an associate advisor to free up your time to take on more accounts. It's completely up to you to decide how to arrange your team and distribute responsibilities among them.
No one knows better the needs and activities of your office than you. With Cornerstone, you – not someone in the home office – get to make staffing decisions in the best interest of your clients and your practice.
Moving into the independent world puts decisions squarely in your hands, so you have the freedom and control to do what's right for you and your clients. When you're ready to learn more about transitioning to private practice, contact one of our Cornerstone recruiters for a confidential conversation. There's no commitment or expectation – this is simply an opportunity to get your questions answered by an advisor who has made the move to independence.